Deal Details
Arden Beauty by Elizabeth Arden is a Floral Green fragrance for women. Arden Beauty was launched in 2002. The nose behind this fragrance is Antoine Lie.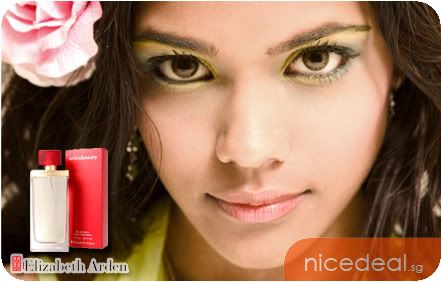 Authentic Elizabeth Arden's eau de parfum in full size 100 ml bottle
Gorgeous and feminine yet subtle floral green scent.
Ideal for day and office wear.
Treat yourself
Get Arden Beauty for a deserving woman as this is a well known brand with high perceived value.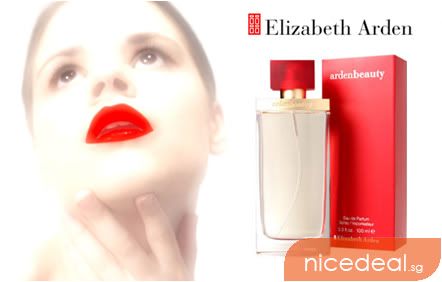 Arden Beauty -
A noble, pure & very unique fragrance Gives you the most freshest moments of the day Embodying sensuality & femininity ensures lasting quality Embraces with an exciting twist on floral Suitable for day or evening wear.
Fine Print
Redeem by

30 Aug 2012

Unlimited vouchers per person. Buy multiple as gifts!
Purchase with purchase offer of 100ml Benetton COLD (for him)or Benetton HOT (for her) at only $17 each. Contact ReallyNiceFragrance@gmail.com for details.
To redeem your purchase, simply email to ReallyNiceFragrance@gmail.com stating your full name, attached voucher number/s, mobile number and a valid address for mailing.
Collection is strictly by appointment only, between 10am and 5.30pm on weekdays, at Balestier area. Address & contact number will be provided after purchase.
Delivery via Registered Mail by SingPost is available at a nominal fee of $5.00. Fragrance will be carefully wrapped with protective material before delivery. Postage fee to be paid directly to Really Nice Fragrance. Contact ReallyNiceFragrance@gmail.com for payment directions if desired.
Collection/ Delivery arrangement will be made after confirmed redemption with full details provided and 1 week after the end of the ad campaign.
Products are non-refundable and non-exchangeable for cash or other products
Not valid with other promotions
Contact ReallyNiceFragrance@gmail.com for further enquiries
Reviews
"I wore this constantly when I was a flight attendant. I worked in smaller planes- our airline had CRJ-700's which only seat about 72 people, so super strong or overpowering perfume was a bad BAD idea. This one was gorgeous and feminine, but also subtle. I got a lot of compliments on it. I'm surprised it's described here as a green floral, because I didn't get those notes from it at all. On me, it smells very red, if that makes any sense. I get a sense of red flowers when I wear it-roses and lush tropical. There are definitely some plumier notes in it, and a warm ginger. It smells almost edible-there are some hints of strawberry and plum in the composition. One of my favorites." --
"When I first got it I thought it was nice but maybe a little too floral for my liking. However, on my skin it smelled so gorgeous that I rapidly changed my mind! Now every time I wear it it surprises me with its loveliness. Although it is floral, there is also a tinge of greenness and a freshness to it which, in my opinion, many other floral perfumes don't have. This makes it much more appealing to me than many other florals, such as Pleasures (yuck) and when I wear it I don't smell as if I've been whipped with a massive bouquet of flowers! It also lasts forever on my skin, which is a bonus!" --
"Lovely perfume. I love wearing it. Really sends me high up. Not boring at all despite its price. Really interesting. Love the lotus and the ginger. Excellent longevity as well and good projection. Reminds me of Chloe but I find it better, despite being much cheaper. It smells complex as well. It is a very nice thing Elizabeth Arden to market some excellent fragrances for low prices." --
Contact Us
If you have any question about deals we offer, please contact us.
Or you can submit enquiries to us,
Payment Mode
Visa, Mastercard, AMEX Credit Card and Paypal