Deal Details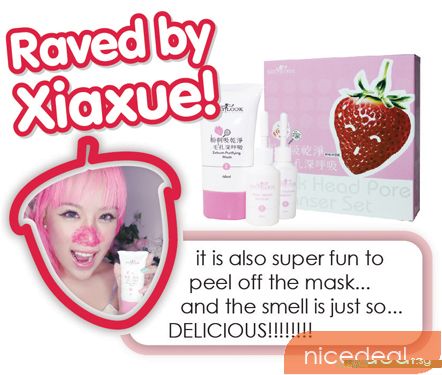 Click here to see what Xiaxue says about this awesome product.
Strawberry Blackhead Whitehead Pore Set 3 in 1:
1. Acnes All out Sebum Softener
2. Acnes All out Purifying Mask
3. Purifying Astringent Essence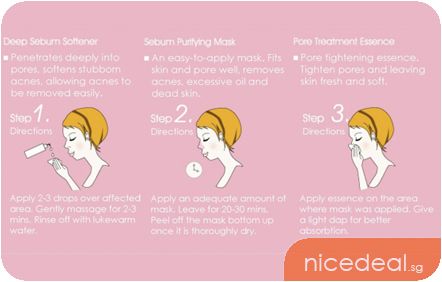 Acnes All out Sebum Softener


Features:
Penetrates deeply into your pores, softens stubborn acnes and remove extra oil in skin and allows acne to be removed easily.
Benefit:

Contains aloe vera extract, cucumber extract which is good for the promotion of wound healing with sterilization and anti-inflammatory effect.
In terms of skin caring, the softener moisturizes skin, gives skin a new life, has convergence, reborn the characteristics of cell, which promotes the skin's blood circulation, convergence, cooling and provides moisture which transforms skin to natural lustre and flexibility.Listen
Acnes All out Purifying Mask
Features:
An easy to apply mask which can fit skin and pores well, with full absorption and remove acne, excess oil and the dead skin.
Benefit:
Contains strawberry extract, bisabolol, witch hazel extract, papaya enzymes, pumpkin enzymes and other
natural botanical extracts to calm and soothe the skin. Anti-inflammatory, anti-bacteria, calms skin, anti-infection, promotes wound healing, tightens and lightens skin.
Nourish deep into the skin, tightens pores, strengthens the skin's elasticity and moisture level, leaving skin smooth, delicate and transforms aged skin to younger radiant skin.
Purifying Astringent Essence
Features:

Essence does not contain oil which is able to tighten pore and transform skin into more refresh and tightened.
Benefit :

Contains chamomile, lemon, burdock root extract which has a calming effect, it is suitable for sensitive and sunburnt skin. The extracts also dilute fine lines and tighten pores. To regulate sebum production and skin surface microbial settlement, convergence properties and free radical interception.
Allantoin: anti-inflammatory, soothing and help skin tissue regenerate with ingredients to combine to reduce skin irritation.
Recommended by Taiwan Beauty Show 女人我最大
Fine Print
Valid until 20 Aug 2012

Voucher is non-exchangeable and non-refundable
Delivery is via registered post – please ensure someone is available to receive your product
Secretive is not liable for any losses or damages that incur from delivery of product
Any queries regarding these products, please email enquiry@secretive.sg
.
How to redeem
· Email enquiry@secretive.sg with
Name,
IC No.,
Contact number,
Mailing address,
Attach voucher
For Self Collection:
For self-collection, print out your voucher and redeem at
- 2 Jurong East Street 21, #02-175 IMM Building, Singapore 609601
Operating Hours: Mon-Fri 9.30am to 5.30pm | Closed on weekends and PH
Call 6899 0128 to make an appointment before redemption
Contact Us
If you have any question about deals we offer, please contact us.
Payment Mode
Visa, Mastercard, AMEX Credit Card and Paypal