72.5%
Hemming My Way is the first snap device with a revolutionary adhesive backing that sticks underneath your jeans or trousers, allowing you to create any hem length you want. Simply SNAP under your long hem for flats, UNSNAP to slip back into heels. Finally… we can say NO to expensive habits of buying TWO pairs of jeans with different hem lengths, NO to pricey trips to the tailor, NO to long hems dragging on the ground
Deal Details
Hemming My Way is the first snap device with a revolutionary adhesive backing that sticks underneath your jeans or trousers, allowing you to create any hem length you want. Simply SNAP under your long hem for flats, UNSNAP to slip back into heels.
Finally… we can say NO to expensive habits of buying TWO pairs of jeans with different hem lengths, NO to pricey trips to the tailor, NO to long hems dragging on the ground, and YES to running around town in stylish flats before slipping back into stilettos for dinner.
 CHANGE YOUR SHOES NOT YOUR PANTS.
Fabric friendly and a cinch to apply. Removable and reusable with the proper care.
Use it on any style of jean or heavy trouser. Perfect for men's apparel, as well as children still growing into their clothes.
Not only does HemmingMyWay hem pants, but also sticks perfectly between blouse buttons to close that annoying gape, holds down the end of a floppy belt, adds extra snaps to coats and jackets, and secures curling lapels and open pockets!
WHAT WOMAN DOESN'T NEED A BOX OF ADHESIVE SNAPS IN HER DRAWER?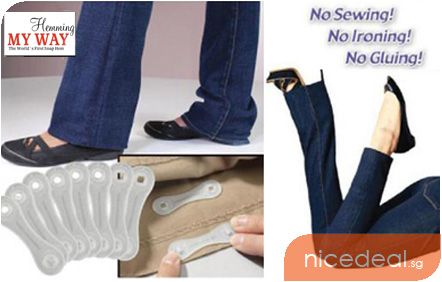 HEMMING MY WAY :
- Fabric friendly and a cinch to apply.
- Removable and reusable.
- Can be used on any style of jean or trouser (yes, skinny, straight, boot cut or flare). Perfect for men's apparel, as well as children still growing into their clothes.
- Each box contains 16 pairs(32pieces) of hemming strips.
- Minimum 2 purchases
- Free Delivery (normal local post) for 2 packs of hemming my way.
Fine Print
Redeem by 15 Sept 2012

Minimum 2 purchases.


May buy unlimited/multiple vouchers.

Free delivery via normal mailing.

Merchant & nicedeal.sg will not be liable for lost mails (registered mail is highly recommended)

For registered mail, additional $3 to be paid directly to merchant.

Products will be sent to customer's mailing address approximately 7-10 working days after redemption confirmation.

For redemption confirmation, please email: cs@shoppingnspree.net with the following information

:
(Subject head/ title of email: Hem Nicedeal)
Name:
delivery address:
voucher number:
voucher password:
Mailing Option: normal or registered
Vouchers are non-exchangeable & non-refundable for cash or other products and are not valid for other promotions, discounts or membership privileges.

Please DOWNLOAD the voucher from your NiceDeal account.
Contact Us
If you have any question about deals we offer, please contact us.
Or you can submit enquiries to us,
Payment Mode
Visa, Mastercard, AMEX Credit Card and Paypal