Deal Details
Authentic Elizabeth Arden's eau de toilette in full size 100 ml bottle
Gorgeous and feminine
Ideal for day and office wear.
Treat yourself
Get True Love for a deserving woman as this is a well known brand with high perceived value.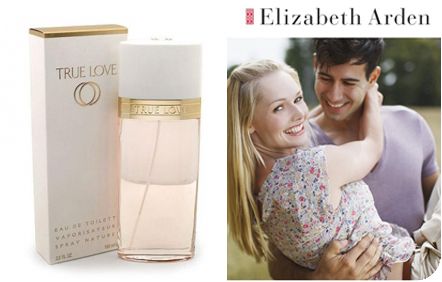 True Love by Elizabeth Arden is a Oriental Floral fragrance for women. True Love was launched in 1994.
Created to celebrate love, this is a gentle and subtle perfume from Elizabeth Arden that is complex and romantic. It has an old fashioned kind of fragrance that is comforting and complimentary. There are top notes of jasmine, lotus, rose, lily of the valley and iris. The heart is still light with narcisse, freesia and peach. A heady combination of base notes of sandalwood, vanilla, amber and vetiver gives it a very sophisticated feel. It is recommended for special occasions.
True Love is romantic, a scent that whispers of happiness and harmony.
Fine Print
Redeem by

30 Aug 2012

Unlimited vouchers per person. Buy multiple as gifts!
Purchase with purchase offer of 100ml Benetton COLD (for him)or Benetton HOT (for her) at only $17 each. Contact ReallyNiceFragrance@gmail.com for details.
To redeem your purchase, simply email to ReallyNiceFragrance@gmail.com stating your full name, attached voucher number/s, mobile number and a valid address for mailing.
Collection is strictly by appointment only, between 10am and 5.30pm on weekdays, at Balestier area. Address & contact number will be provided after purchase.
Delivery via Registered Mail by SingPost is available at a nominal fee of $5.00. Fragrance will be carefully wrapped with protective material before delivery. Postage fee to be paid directly to Really Nice Fragrance. Contact ReallyNiceFragrance@gmail.com for payment directions if desired.
Collection/ Delivery arrangement will be made after confirmed redemption with full details provided and 1 week after the end of the ad campaign.
Products are non-refundable and non-exchangeable for cash or other products
Not valid with other promotions
Contact ReallyNiceFragrance@gmail.com for further enquiries
Reviews
"A soft blend of watery florals including lotus, iris and jasmine." A floral-aldehydic fragrance! Today I tested TRUE LOVE for the first time, because it is created by Sophia Grojsman, a successful and wonderful perfumer/nose. She composed great and popular fragrances (Paris, Yvresse, Sun Moon Stars, Eternity, White Diamonds etc.) The wonderful smell of TRUE LOVE is very hard to describe, because all notes are so subtle and soft and well-balanced. TRUE LOVE smells clean, fresh, floral with a hint of lovely sweetness. It's elegant, feminine and cool like white satin. A young and cheerful scent for a bright bride in white :-). A 'Don't Worry-Be Happy' fragrance." --
"This is the only perfume that I wear. I adore this scent. So happy that I can again buy it. Without fail when I go somewhere, dr.s office, restaurant, you name it, someone always asks me what I am wearing and say that they love the smell, Its usually described as soft, feminine, flowery. I can't believe that anyone would dislike this scent. But I firmly believe that one's own chemistry determines how well a perfume smells on a person." --
"This is a beautiful scent! The first few seconds after spraying you are hit with a blast of apricot and peach but it calms down and becomes very subtle as the florals begin to warm up. Its very light on me and when I smell it I feel like I should be wearing a big ball gown dress in the victorian era going to a ball! hehe. It makes me think of the story cinderella, she would wear this scent. I love it, so elegant." --
Contact Us
If you have any question about deals we offer, please contact us.
Or you can submit enquiries to us,
Payment Mode
Visa, Mastercard, AMEX Credit Card and Paypal